CADAVERIA - Flowers In Fire
http://www.youtube.com/watch?v=NaIb-UBcjmoendofvid[starttext]Banda formada em 2001, pela italiana
Cadaveria
, ex-vocalista do
Opera IX
. No mesmo ano, com Flegias, Killer Bob (ex-
Necrodeath
), Frank Booth e Baron Harkonnen, a banda grava seu primeiro álbum entitulado "The Shadows' Madame", pela Scarlet Records, dando início a um estilo caracterizado como Horror Metal. Para concluir o trabalho do primeiro álbum, Cadaveria lança juntamente dois videos, o clipe "Spell" e o ao vivo "Circle of Eternal Becoming".
Em 2004, a banda reafirma o sucesso com o lançamento de "Far Away from Conformity" também pela Scarlet Records. O álbum possui linhas de Death/Black metal e surpreende os fãs com o sucesso "Blood of Confusion" e o cover "Call Me" da banda
Blondie
. O álbum foi lançado na Rússia pela Cd Maximum e na América do Sul pela Hellion.
Durante 2006, Cadaveria trabalhou na produção de seu terceiro álbum, juntando-se a Season of Mist e mostrando aos fãs em 2007 o inovador "In Your Blood". Destaque para as faixas, "The Dream" e "Anagram" as quais possuem clips perfeitamente produzidos.
FONTE: LAST FM
Um Dark Metal Italiano para o pessoal, esse é o novo vídeo de Cadaveria, uma das primeiras mulheres a cantar Black Metal com sua clássica e ex banda Opera IX.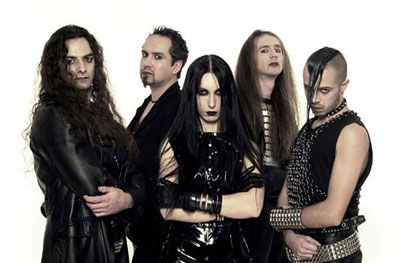 http://www.cadaveria.com/
[endtext]