BEHEMOTH - Messe Noir
http://www.youtube.com/watch?v=0wN7u7B_qPQendofvid[starttext]
Behemoth
é uma
banda
de
blackened death metal
formada na
Polônia
em
1991
. Liderada pelo guitarrista e vocalista
Nergal
, então com quinze anos de idade, o Behemoth criou uma enorme força durante a década passada como uma banda grande dentro do cenário underground do
black metal
. Com o passar dos anos, a banda, de uma forma bem natural, foi mudando gradativamente sua sonoridade para um som mais direcionado ao
death metal
, sem perder sua identidade.
A banda faz um
death metal
muito diferente do que o convencional, assim como
Nile
a banda faz
death metal
com elementos do
oriente médio
(
oriental metal
) .
Com seu som pesado e bem trabalhado, hoje o Behemoth é conhecido e admirado por muitos fãs de
metal extremo
em todo mundo.
História
Behemoth
foi formado em
1991
pelo líder, atual guitarrista e vocalista da banda
Nergal
pelos ex-membros : Baal (bateria) e L. Kaos (guitarra) . Que começou como um puro e primitivo black metal.
Eles lançaram o Endless Damnation, que foi o primeiro trabalho da banda. Depois de algum tempo, eles lançaram o
demo
...From the Pagan Vastlands que foi gravado pela Pagan Records (que foi o primeiro contrato com uma gravadora) . Após o lançamento do
EP
And the Forests Dream Eternally
seguido do álbum
Sventevith (Storming Near the Baltic)
a banda foi ganhando uma visão mais positiva que acabou ganhando um contrato com a gravadora Solistitium Records .
Com o lançamento do álbum
Grom
foi uma grande surpresa, o álbum estava muito diferente da antiga sonoridade da banda, com uso de vocais femininos, e o uso de guitarras acústicas. Pela ascensão do álbum a banda conseguiu fazer turnês pela
Europa
entre outros lugares. Três anos depois a banda lançou um novo álbum, intitulado como
Pandemonic Incantations
e, foi um grande estouro da banda pelo fato da carreira da banda ser curta. O álbum lhes rendeu uma enorme turnê. A banda assinou um contrato com a gravadora
Itália
na Avantgarde Music em 1998 .
O primeiro álbum com a colaboração da gravadora foi o
Satanica
(considerado o melhor álbum da banda por muitos fãs), que mudou seu estilo do black metal purista ao death metal. O álbum rendeu turnês com as banda
Deicide
e
Satyricon
, durante a turnê, a banda sofreu alguns problemas com a formação e com a ex-gravadora, foi ai que entrou o baixista Novy e o guitarrista Havok .
O próximo álbum se chama
Thelema.6
, no novo álbum, a banda inovou muito mais do que os álbuns antigos: guitarras mais técnicas, bateria cada vez mais brutal e uma composição magnifica. O álbum foi o primeiro da banda a ser lançado oficialmente na
Rússia
e aqui no
Brasil
. A banda tocou nos eventos:
Wacken Open Air
, With Full Force, Inferno Metal Festival, Mystic Festival, e o Mind Over Matter Autumn. Eles também tocaram com as bandas
Carpathian Forest
e Khold seguido do evento polonês Thrash em All Fest, com
Vader
e
Krisiun
entre outros.
Em
2001
, a banda se focou em compor um novo material para o sexto álbum da banda, depois de um tempo eles entraram em estúdio para gravar o álbum
Zos Kia Cultus (Here And Beyond)
. O resultado foi impressionante, lhes garantiu muitos shows internacionais. Em fevereiro de
2003
a banda fez uma turnê pela
Noruega
e lá, assinou contrato com a Century Media Records, o contrato resultou uma turnê com as bandas:
Deicide
,
Revenge
,
Vehemence
e
Amon Amarth
.
E depois a banda participou de um festival com bandas como
Nile
e
Opeth
. No final de 2003 a banda sofreu mais uma mudança na formação saindo Novy e Havok. No começo de 2004
Nergal
conseguiu com que
Orion
(
Vesania
) entrasse na banda como baixista.
Em 2004 o sétimo álbum
Demigod
foi lançado, com um novo integrante na banda, conhecido como
Seth
. O álbum ganhou uma boa crítica, gravado na Hendrix Studios . O álbum contém dois vídeos, "Conquer All" e "Slaves Shall Serve". Em
2007
a banda tocou com as bandas
Napalm Death
,
Moonspell
e Dew-Scented . No final de 2004, a banda realizou sua primeira vinda ao
Brasil
ao ver a emoção dos fãs,
Nergal
disse em uma entrevista que os shows no
Brasil
foram um dos melhores que já fez, e confessa ser um grande fã da banda
Krisiun
.
A banda lançou seu oitavo álbum
The Apostasy
, (indicado o melhor álbum da banda pelo líder e vocalista
Nergal
) lançado em em julho de 2007 gravado em dezembro de 2006 . Em 2007, a banda tocou no
Ozzfest
, junto com as bandas Job for a Cowboy, Gojira e Beneath the Massacre.
Durante a gravação do álbum
The Apostasy
, a banda regravou a música "Chant for Eschaton 2000" e pretende lançá-la brevemente no próximo
EP
, intitulado
Evangelion
.
Em Agosto de 2010, a banda cancelou todas as futuras apresentações depois que o seu vocalista foi internado com uma doença até então não divulgada. Ainda em Agosto foi revelado que Nergal estava sofrendo com um tipo de
leucemia
.
1
No mesmo ano,em dezembro,Nergal foi submetido a uma cirugia de
medula óssea
. Atualmente, está em recuperação.
2
No fim de 2011 a banda declarou
nova turnê
, que passou pelo
Brasil
no dia 21 de outubro de 2012, no
Carioca Club
- SP.
No final de 2012, Nergal anunciou em entrevista ao site
SkullsNBones
que o novo álbum seria gravado em fevereiro de 2013 e lançado no
outono
do mesmo ano. Assim sendo, o novo álbum da banda acabou por ser lançado em 3 de fevereiro de 2014 e foi intitulado de '
The Satanist
'.
Após o lançamento do álbum a banda confirmou novas datas da turnê mundial de lançamento do novo álbum para apresentação do seu ultimo trabalho. A turnê se chama 'The Satanist 2014' e as cidades brasileiras que irão receber a banda sao: São Paulo, Rio de Janeiro, Curitiba, iniciando sua passagem pelo Brasil no dia 06/11. Porém, após negociação com a banda, o Behemoth passará também pelo palco do Teatro Feevale, no Storm Festival, na cidade de Novo Hamburgo - RS no dia 06/11.
Estilo
No começo da carreira, o Behemoth era titulado como
black metal
e com o passar do tempo, o Behemoth começou a mudar seu estilo lentamente para o
death metal
. Em uma entrevista , Nergal disse que o Behemoth não é mais black metal, e sim death metal, graças ao baterista Inferno que ajudou bastante a banda a redirecionar o
estilo
.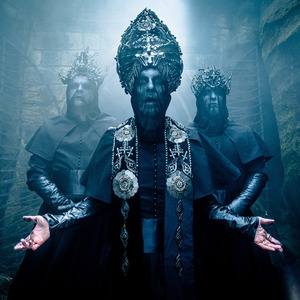 [endtext]