[postlink]http://rocknrollpost.blogspot.com/2016/03/a-day-to-remember-paranoia.html[/postlink]http://www.youtube.com/watch?v=fUOVQ4KsX9Uendofvid[starttext]
A Day to Remember
é uma
banda
americana
de
Post-Hardcore
/
Metalcore
formada na cidade de
Ocala
, na
Flórida
em
2003
. Têm álbuns lançados com o selo das gravadoras
Indianola Records
,
Victory Records
de
Silverstein
,
Comeback Kid
e
Four Letter Lie
; com a qual lançaram quatro álbuns até
2010
paralelamente a um álbum independente, o Old Record de
2008
. Atualmente eles tem um selo Independente
ADTR RECORDS
.
História
A banda A Day to Remember foi formada em
2003
na cidade de
Ocala
,
Flórida
. Tornaram-se conhecidos por unir alguns gêneros em suas músicas, principalmente
Pop Punk
e
Hardcore melódico
; tornaram-se mais conhecidos também, pela regravação de músicas populares, aderindo-as com seu estilo. As músicas regravadas foram "
Since U Been Gone
" da artista
Kelly Clarkson
e "
Over My Head (Cable Car)
" da banda
The Fray
.
Eles lançaram algumas músicas em demos, em seguida, assinaram com a Indianola Records para o lançamento de seu primeiro álbum,
And Their Name Was Treason
de
2005
. O álbum vendeu mais de 8.000 cópias,
[1]
e um ano mais tarde eles assinaram com a
Victory Records
. Rapidamente começaram a trabalhar em seu segundo álbum, intitulado
For Those Who Have Heart
em que apareceram com o novo baterista, chamado Alex Shellnutt.
Em 2008 lançaram a deluxe edition do
For Those Who Have Heart
, seu primeiro DVD gravado em sua cidade natal (
Ocala
) e fizeram um álbum intitulado
Old Record
que é uma reedição do
And Their Name Was Treason
, porém, com diferentes versões das músicas e com uma capa que satiriza os membros da banda no futuro.
Em 2009 lançaram seu terceiro álbum em estúdio, o
Homesick
, e alguns meses depois de seu lançamento, o guitarrista Tom Denney quebra seu pulso e é substituído temporariamente, até então, por Kevin Skaff, que tocava na banda
Four Letter Lie
, porém, mesmo após se recuperar, Tom resolveu deixar a banda alegando o que já demonstrava há um certo tempo: estar deprimido por saudades de sua esposa e cansado da vida de estrada. Em outubro de 2009 eles relançaram o álbum
Homesick
com músicas ao vivo gravadas em um show na
Suíça
e duas acústicas, "Homesick" e "Another Song About the Weekend".
Em julho de 2010 a banda começou a gravação de seu quarto disco que seria lançado em 16 de novembro, chamado
What Separates Me From You
. Tom Denney, mesmo estando fora da banda, continua sendo amigo dos atuais membros, ele inclusive fez participações como backing vocal nas gravações mais recentes da banda, uma participação super especial no clipe da música "I'm Made Of Wax Larry, What Are You Made Of?" durante aproximadamente 2 segundos, mais uma no clipe da música "All I Want", e fez outra grande aparição no clipe de "Right Back at it Again", um dos mais recentes singles.
Em 21 de dezembro de 2012, dois anos depois do lançamento do último álbum, a banda lançou a música "Violence (enough is enough)" que faria parte de seu quinto álbum de estúdio, o "
Common Courtesy
" que muito cobrado pelos fãs, saiu no dia 8 de outubro de 2013.
Recentemente em seu Instagram, Jeremy fez uma postagem com rumores de um novo álbum da banda já em fase de pré-produção.
Integrantes
Atuais
FONTE : WIKIPEDIA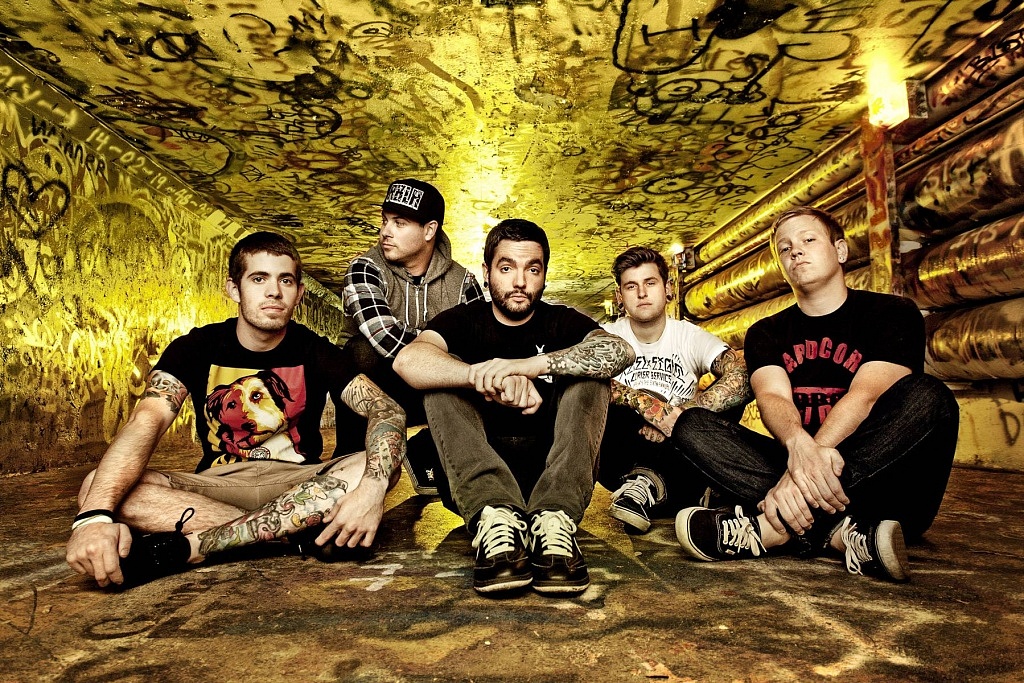 [endtext]